Back in 2008 I decided to purchase my first ever quad from Gio. I made this decision as I wanted to have a smaller ATV for my daughter's to to ride alongside me on my Yamaha YZ 250 F dirt bike. Not having a lot of money to spend, and not sure if my daughters would love riding as much as I do, I chose to go the "off-brand" or Chinese product over a big name brand like a Honda, Kawasaki, Yamaha etc. It has started a bit of a love affair for me on these products, and has opened the doors to new friendships as well.
The Mini Beast will always be dear in my heart as it was the first of many Gio quads I've been involved in, and up until recently was the most upgraded unit in the bunch. It was only recently surpassed in this regard by my larger, adult sized 2007 Gio Beast 200cc.
My Mini Beast arrived at my door for less than $500. It arrived in two boxes via UPS. I knew 'some assembly required' was the name of the game, but I certainly didn't expect the kind of time it took me. For those reading and wondering, the Mini Beast from Gio is one of the more time consuming assemblies in comparison to most of their other products. The owner at Gio confirmed this for me after I spent a good 8+ hours on it. If you purchase one, expect spending some time on it and expect these things to install:
Mini Beast in Box
Handlebars,
Wheels (all four),
shocks,
exhaust system(dual),
fenders,
front grille,
sprocket and rotor protector.(underneath at back)
Battery.
Just Some of the Parts
You also need to set and adjust steering, set up front brakes (if included), set up rear end(chain tension, alignment) and a few others I'm sure I'm forgetting.
My time estimation is not an exageration, and I have a reasonable mechanical background so this is really not a job for someone not used to tools. Please read my other post about the safety of these machines. The Mini Beast will do close to 70 km/hr so you really want to make sure it's assembled and set up correctly.
On to the meat of the review. My thoughts on this ATV after 2 years of ownership are weighed heavily in the positive aspect of ownership, but it's not without it's headaches. I don't think any of these machines come fault free for less than $500, so I want to be clear that for the money I've spent, I really can't complain..but I will a little.
The quad has two major shortcomings. First is the front end, meaning the shocks and suspension set up is just plain not designed well. The shocks are just plain springs, with no damping or rebound correction. To add, the springs are just way too stiff. So stiff they barely move when pushing down on the front grille with your hand. The A-Arms do not articulate at the right angle, due to a pushed in stance to keep it as a small machine. Combine this with the shocks barely moving it results in the fasteners and control arm bushings taking a beating when it hits any bumps. Myself and a few others have been tightening, changing bolts and bushings, and trying to soften the shocks a number of times, a number of ways, and it's still not great. It's a shame, because the machine would handle trails real well if not for this problem. Well, it still will go through the trail, but you'll be doing some good fixing afterwards if it's rough and you hit bumps with any speed. The Mini Beast would really benefit from some form of aftermarket shock, however at this time no suitably sized product has been found, or offered from Gio.
The second concern is the design on the rear axle. It employs what can only be deemed as spacer tubes to control where the wheels stop on the axle. The spacer tubes press up against the brake rotor and wheel on one side, and the sprocket and the wheel on the other. They just won't stay tight, and come loose and rattle quite loudly. It really makes the machine sound like it's going to fall apart, and doesn't instill confidence. If you tighten the wheel nuts up against the spacers more, it preloads the bearings and the brake rotor to the point it won't turn the axle. If you back them off, you're back to the rattling. This does not really affect overall performance of the machine, it just becomes an annoyance and a bit embarrassing hearing it rattle and shake when it hits anything larger than a pebble.
Now the good things, the motor is fantastic. The 110cc powerplant has never given me an ounce of trouble. This is with the stock carburetor which I fully expected to give me headaches, and has not. If I haven't missed the annoying kill switch boot on the back(it sometimes tips and kills spark), and if the battery has a good charge (we'll get to that) the quad will fire right up. I added a performance CDI to provide it better timing and spark power, which it really didn't need just me being an upgrade freak. With or without the CDI it has always made power, started right up, and ran without too much of a miss since day 1, and it still is.
Orange Mini Beast, Brand New.
Your author is a full sized adult, and the 110cc motor will pull me around without too much trouble. It picks up speed well and throws the little machine around perfectly. Now I wouldn't go riding through heavy trails with me on it, but I think it would get by if not so uncomfortable for someone my size. It's certainly great for the targeted age/size group.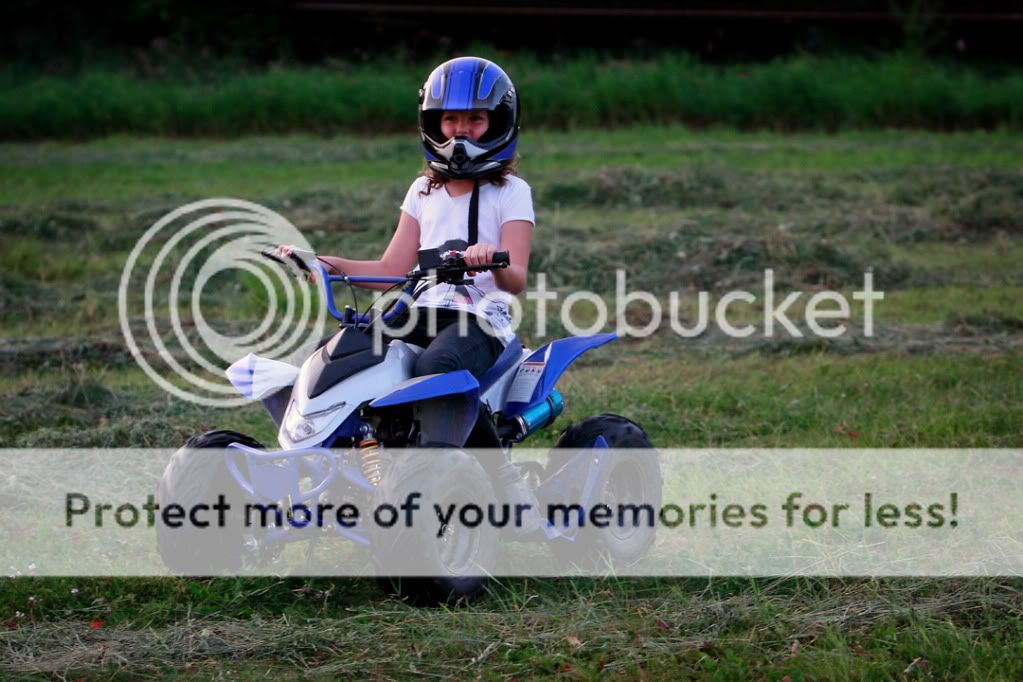 Silver/Blue Mini Beast w/ Rider
Copyright, www.familyfirstphotography.com
The quad is light, and is very easily operated by youngsters. I've had kids as young as five on it, and people as old as 40 riding it. It's a cute, good looking little quad who not one person who has rode it doesn't finish with a smile on their face. It has safety features like the kill switch on the back, which is attached to a tether strap, the throttle can be governed easily by a screw on the handlebar, auto transmission so no shifting for the little ones, and excellent working brakes.
Despite the front end issues, the Mini Beast is remarkably durable. Our unit has been thoroughly kid tested, adult tested, and ridden hard for two years, it still fires up and takes a licking for whoever decides to take it for a ride. The machine requires maintenance with checking wheel nut tightness, occasionally changing out the cotter pins for new ones and fresh loctite, it runs and runs and continues to put smiles on people's faces.
I honestly cannot NOT recommend the Mini Beast from Gio for the sole reason of cost versus fun factor. No, it's not a Yamaha, and don't expect one for that kind of money. What you can expect is a fun, light duty quad which with proper care and attention, should get your years of enjoyment for your children, or yourself.
To end this report, I would recommend a battery upgrade, Canadian tire offers a good solution that fits. The Motomaster battery number is 4L - B and the Part Number is CTC# 27-1007-8. This battery will fit the Mini Beast and Mini ATV body styles, although you need to trim the battery drain tube slightly.
I will also add a video of the machine running, because personally I always want to hear what any unit sounds like before I buy a motorsport product. Must be a man thing!